Victor Luckerson
March 11, 2014
Obama isn't just trying to display his comedic chops—he's pushing for more enrollees for healthcare.gov, the beleaguered health insurance exchange website that is still far off its goal of
7 million enrollees
by the end of March. The
Between Two Ferns
appearance is the latest in a series of shrewd marketing moves Obama and his web-savvy team have launched during his presidency. Since 2008, when his campaign worked with Shepard Fairey on the now-iconic "Hope" poster, Obama's image has been carefully crafted to be shareable across social media and resonate with young voters, his most ardent supporters. This has led to an endless supply of viral moments crafted by the White House.
But it's also meant diminished access for journalists whose job it is to cover the President—while Obama regularly gives offbeat interviews like this one with Galifianakis, he held
less press conferences
in his first term than any U.S. president since Ronald Reagan. Here's a look back at some of Obama's most successful (and controversial) marketing moves:


Joining Reddit
During his 2012 presidential campaign, Obama chose an unlikely forum to answer citizens' questions: Reddit, the online message board where Internet memes are often born. The President hosted an "Ask Me Anything" session, a regular event in which people with interesting stories agree to answer questions from Reddit members. The President's answers were a mix of policy issues and humanizing minutiae—he said the decision to increase America's military presence in Afghanistan was the toughest of his presidency, then later promised he would release the White House's beer recipe. While Obama has also used Twitter, Facebook and Google+ to talk to voters, taking questions on Reddit was likely a play to look hipper than his political peers.
Having a @BarackOBama Twitter Account Not Managed by Barack Obama
@BarackObama seems like a pretty cool guy on Twitter. He begged the Internet not to ruin House of Cards with spoilers, and he sent Missouri defensive end Michael Sam words of encouragement when he came out last month. But Barack Obama, the actual President, didn't send those tweets. Neither did his staff. As The Wire's Philip Bump has pointed out inmultiple reports, control of the @BarackObama account was handed over last year to Organizing for Action, a "social welfare" non-profit formed after the 2012 campaign that pushes the President's agenda. OFA notes that it runs the account in the @BarackObama bio, but you wouldn't know it from a casual glance through the tweets, which assume the voice of the President. While it's doubtful anyone thought
Obama himself was typing out tweets on his BlackBerry (yeah, he still uses one), the fact that the tweets don't come from his staff or require his approval would likely come as a surprise to many of the account's 42 million followers.
Making Music Videos
Even though the early YouTube hit "Crush on Obama" was unaffiliated with the President's 2008 campaign, he's since crafted some hit music videos of his own. There was Obama singing Al Green at a fundraising event in 2012, a song destined to explode on the Internet the moment he hit the first note. Later that year the President appeared on Late Night with Jimmy Fallon to "Slow Jam the News," turning his campaign platform into baby-making music. Not all the White House's tunes are winners—a dubstep commercial his staff made to promote last year's State of the Union is pretty cringeworthy.
Favoring Official White House Photos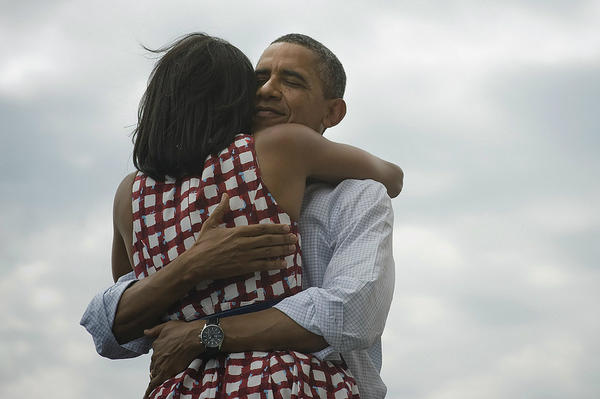 Photos of the President are shared more widely today than ever before—an image of Barack and Michelle Obama hugging posted after his reelection was the most re-tweeted message ever on Twitter at one point. Increasingly, though, these images are coming from official White House photographers instead of independent journalists. A group of 37 news organizations submitted a letter to the White House in November criticizing their decreased access to the President as more events are deemed "private" and only photographed by government staff (examples include an outdoor lunch with then-Secretary of State Hillary Clinton and an Oval Office meeting with Malala Yousafzai). The coalition equated these restrictions to "
placing a hand over a journalist's camera lens
."
Enlisting YouTube Celebs to Promote His Agenda
Earlier this month the President invited some of the most popular self-made stars on YouTube to a White House summitto encourage them to promote the Affordable Care Act and healthcare.gov. It's a clever move to get his message delivered via a group of people who may hold more sway among young people than authority figures. The White House released a videopromoting the meetup, and some of the YouTube stars like Obama impersonator Alpha Cat (featured above) have released their own humorous videos in support of Obamacare.
Proving He's a Sports Nut
When college basketball's March Madness begins next week, it's likely we'll all get an inside look at the President's tournament bracket. Obama has appeared on ESPN for the last few years to publicly explain his picks while Republicans fume that he's
wasting time
on frivolous issues. But Obama loves to leverage sports to get in front of a wider audience. He has an annual televised interview before the Super Bowl, and he sat down for a talk with NBA legend Charles Barkley earlier this year to discuss the impact of LeBron James and (of course) encourage people to sign up for insurance on healthcare.gov.